Beige Manicure – 7 tricks to spice up a subdued manicure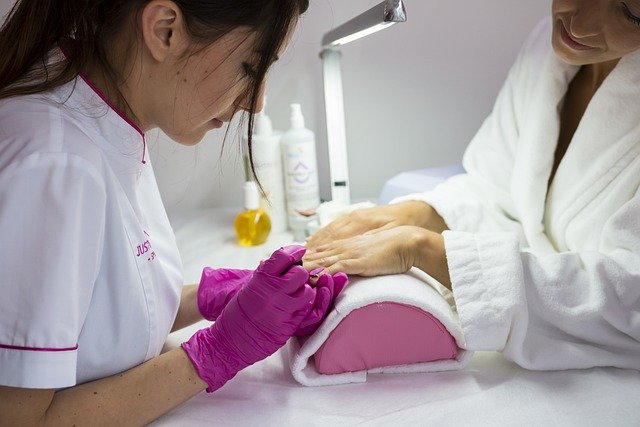 You need about 4 min. to read this post
Nails in beige shades do not have to be boring. They look great with any peas, dots, flowers, crystals or colored tips. Add some interesting accents to your classic manicure.
No one needs to be reminded that hands are the business card of every woman. They should be well-groomed and moisturized. Of course, you can not forget about the nails – they play a really significant role in the appearance of the entire hand. There is no question of bitten ends or yellowed plate. Your nails can be longer or shorter – whichever you prefer – but they must always be nicely filed and clean.
For some occasions strong and bold colors work well, but the most useful are classic and delicate shades of beige and nude. Such manicure fits always, everywhere and… everyone. In addition, it is so versatile that it is the perfect base for any decorations. We tell you how to change your subtle manicure in a few moments
Dots and peas
Dots and peas are one of the easiest manicure embellishments. Even beginners can do it. You don't need the help of another person or special tools to do them. Yes, you can use a special probe, but for this purpose will work perfectly just … a pin, which each of us has in her house. Just pour a little bit of nail polish, dip the head of a pin in it and apply, creating a delicate pattern.
Black and white polka dots will look best on beige nails, but depending on your preferences or the occasion, they can also be red, green or purple.
They can also be red, green or purple depending on the occasion.
White delicate flowers
Another option are flowers, which have been one of the trendiest nail art for many seasons. In this case it is best if they are white. Then they look very elegant and fit to many stylings. Delicate flowers will effectively revive beige manicure.
You can also try a shiny floral pattern, for example gold or silver. This ornament is not necessarily for everyday use, but for a party, wedding or a meeting with friends it will be perfect
Crystals
When deciding on a manicure with crystals, you have to be careful not to overdo it. First of all, such decoration is ideal for brides – it will perfectly match the engagement ring and wedding ring.
Do not forget that the crystals are convex, so they can catch on clothes or hair when combing them with your fingers. However, they do not interfere with everyday life. What is important is that you stick them with a durable and good quality glue, so they do not fall off at the least opportune moment.
Gold foil
Gold foil also gives beige nails a shine. You can paint the whole nail with gold or glitter polish or go a step further and opt for gold foil. Decorations using this foil are very impressive.
The foil can be applied to the entire nail plate or just a part of it. Either way, it will look fantastic.
Colourful French hairstyle
A great way to liven up beige manicure is french. It can be classic, with white tips, or you can try crazy with colorful tips, which is a hit on the Internet.
This original design can be done in many ways, choosing colors and combining them according to taste and desire. For example, neon tips in one color, in contrasting colors or in all colors of the rainbow will look beautiful.
Gemstone
Gemstones are a very fashionable pattern in interiors and accessories for several seasons. We can find it not only in the kitchen – on countertops, cups, bowls, but also on clothes, textiles and all accessories.
No wonder – such decoration looks very interesting and elegant also on the nails. Certainly marbled manicure will attract the attention of others.
Mermaid effect
Mermaid effect is nothing else than a magical powder, which when applied on beige color gives a beautiful effect of smooth and shiny surface. This decoration is very subtle and it is perfect not only for holidays, but also for everyday use.