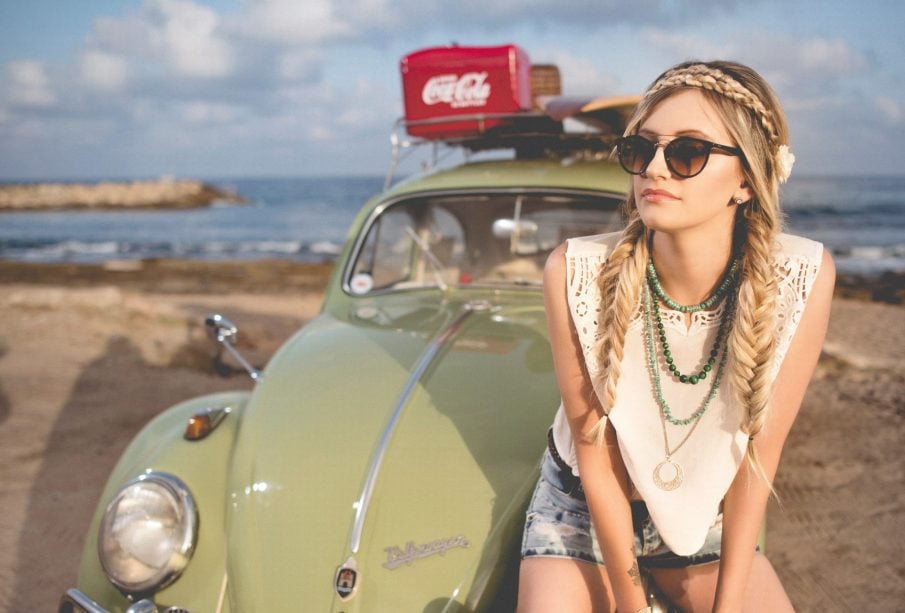 You need about 3 min. to read this post
There are many women for whom having blonde hair is one of their dreams. However, this shade will not suit each of us. It depends on the type of beauty, complexion and other factors. Check out what shade of blonde the main star of the cult series "Stranger Things", Millie Bobby Brown, has decided on, and who it will suit!
What does Millie Bobby Brown's new hairstyle look like?
Millie Bobby Brown decided to surprise everyone by changing her appearance. The change consisted of tweaking her hairstyle and changing her hair color to blonde. The actress first showed off her new look during an appearance on "The Tonight Show Starring Jimmy Fallon." She wore a beautiful creation designed by Raisa Vanessa, which consisted of a shimmering strapless top adorned with feathers, tight high-waisted pants and platform pumps. It was all in a charming shade of purple. Millie tied her new blonde hair into a ponytail, and her bangs were split down the middle and pulled to the side. The whole look was wonderfully complemented by delicate, but emphasizing the beauty of the star, makeup.
For whom will this type of blonde be suitable? 
The shade of blonde chosen by Millie Bobby Brown will be suitable for women with warm beauty type. This means that ladies with yellowish or peachy skin tones will look best in it. Warm skin tone is most often associated with dark eyes and eyebrows. If you have a feeling that this is you – you can get inspired by the star!
Warm shades of blonde wonderfully highlight the complexion and do not conflict with it. They suit problematic complexions, that is, those with redness and broken capillaries. A warm shade of blonde will mask these problems and make it look good. 
Warm blondes have another advantage – they make beauty softer! Women with this hair color give a more girlish impression. It also usually looks very natural and does not stand out strongly. 
How to care for warm blonde hair? 
The presented hair shade requires proper care to make it look beautiful all the time. Manufacturers usually focus on cosmetics for the care of cool blonde, but fortunately, those for taking care of warm blonde are also readily available. 
The effect of cosmetics for caring for warm blonde is most often focused on hair regeneration. No wonder – any bleaching has a weakening effect. They have a warm pigment in the composition, which gives the hair the right shade. Also, do not forget about the shine – with warm, golden blonde it plays a very big role. To take care of it, use emollient conditioners and silicone oils. Also try to save your hair after coloring – use hair dryers, curling irons and straighteners as little as possible. 
main photo: unsplash.com/Amos Bar-Zeev