Sneakers – always look great with these things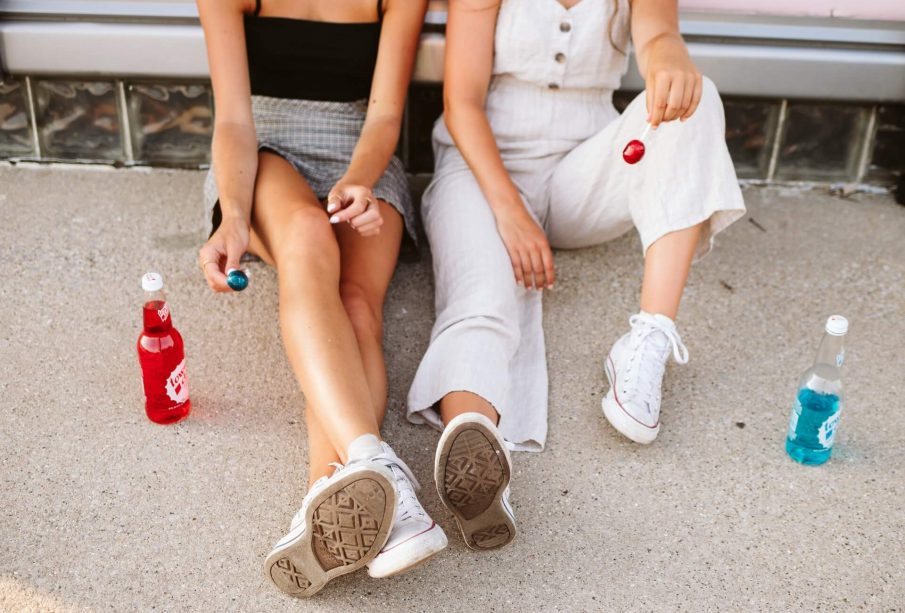 You need about 4 min. to read this post
The spring months are a time to shed heavy winter clothes and change into lighter closets. Although this year spring is a bit late with its bloom, higher temperatures already allow us to modify our everyday stylizations. For many women, the symbol of spring closet are sneakers in various styles. See what to combine these shoes with to look stunning.
Youthful look – sneakers with jeans
The most basic, but also the most versatile look you can create with sneakers is a slightly sporty one with jeans, a t-shirt or a hoodie. Blue or black jeans, slightly distressed or with holes on knees, combine with simple white t-shirt. On top of the T-shirt you can throw a cardigan or unbuttoned sweatshirt and the base is ready Cheap women's sneakers the accessories in this outfit can be as subdued as the base but they can also be used as colorful accents. Red, yellow or blue shoes will add variety and brighten up the whole outfit without having a flashy effect. This is a perfect solution for classic and minimalistic women
A similar look, great for colder days, can be created by swapping a t-shirt for an oversized sweatshirt. Such sweatshirts are the hit of the season, and combined with colorful sneakers, will create a great and very fashionable set. If the sweatshirt will be colored – bet on black or white sneakers. If it will be in a neutral color, don't be afraid to experiment with bold colors
Girlish charm – sneakers with a dress
Dress and stilettos is a set in which every girl looks phenomenal. However, high-heeled shoes are not the most comfortable option for a walk or a date in the park. A great substitute for high-heeled shoes, which will make your outfit more nonchalant and casual, are sneakers. If you are a fan of girly dresses, sneakers are the perfect shoes for you for spring and summer. Both mini and midi dresses will look great with sneakers. A maxi dress, if it's not a prom dress, will also work as a base to wear sneakers. However, avoid pairing sneakers with very elegant dresses. Sneakers, as shoes, for example, for a wedding, will work well after midnight, not at the entrance
Smart casual look – sneakers for an elegant look
If you appreciate simplicity and comfort, but at work you need to look elegant and professional, sneakers for slightly more formal styling can also work. You can easily match sneakers with tailored pants, a white shirt and a jacket. In this case, minimalist sneakers in a timeless white color will work best. However, sneakers are more suited to pants than skirts. While sneakers will be a fantastic accent to a summer floral beach skirt, a pencil skirt will be at odds with sporty shoes. A formal dress for the office may also not be a good choice if you plan to wear sneakers. For tight skirts and dresses, stay with stilettos or ballerinas.
When choosing footwear for your outfits, go with comfort, style and taste. Not everyone will like the combination of a dress with sneakers, and not everyone will like the combination of a jacket and sneakers. Look for proposals that will best suit your tastes and everyday style of dress. Treat our suggestions as hints or inspirations and based on them build your own outfits that will suit you one hundred percent. After all, fashion is for having fun with it! Give vent to your creativity and create unique outfits with sneakers in the lead role.