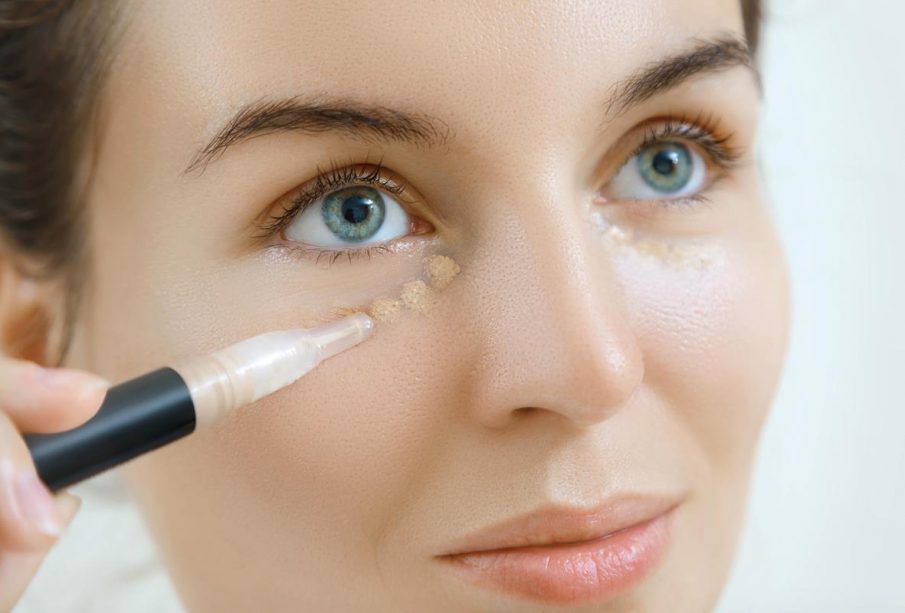 You need about 4 min. to read this post
Eye concealer is one of the most popular cosmetics, which probably can be found in most women's makeup bags. How to use it to make your make-up last and look perfect for many hours?
It is impossible not to mention concealer under the eyes among basic cosmetics, such as foundation, powder or mascara. This product allows to create a perfect make-up and hide many imperfections. However, you need to know how to apply it correctly, and it turns out that we often do it wrong.
Why use concealer under the eyes?
Under-eye concealer is a cosmetic that is great at masking dark circles, bruises or bags under the eyes. And this is a problem and pain of many women. Sleepless night, coming home late, tiredness or illness – then the skin under our eyes does not look good. It is devoid of radiance, grayish, wrinkles are more visible. This, in turn, makes us look older
Why is it better to choose an under-eye concealer than a traditional foundation? Well, imperfections around the eyes will not be covered up by a regular foundation. At most, it can clog pores and be "too heavy" so it will highlight crow's feet, wrinkles and drooping eyelids. Besides, the skin in these areas is very delicate and sensitive, so a cosmetic with a special formula will work better.
How to apply concealer to make your makeup last longer?
Many women use concealer only on the skin under the eyes. But it turns out that this cosmetic can have versatile effects. It can make your make-up last longer and be more perfect.
Beautiful makeup also means beautiful eyebrows. You can give them a nice shape and lighten them by using a concealer. Interestingly, you can also use this trick to make your eyes look bigger. All you need to do is apply a little bit of liquid concealer on your upper and lower brow line. Gently blend it in to give your brows a nice shape
Concealer for the area around your nose? Of course you can! As you know, many women struggle with pigmentation and broken capillaries in this area of the face. The area around the nose is often red (even if you don't have a runny nose). To even out your complexion, all you need to do is apply some concealer to your nose pads and then blend it in gently or pat it on with a sponge or your fingertips. It's a good idea to apply a few layers to fix your makeup.
When doing your makeup, it's also a good idea to apply an illuminating concealer to the very center of your chin. Why? Well, it's a trick makeup artists like to use to help focus attention on your lips and nicely highlight your lip color. It's perfect if you're wearing a bolder shade of lip colour such as deep red or red wine. It's also a great idea to outline your lips after you've painted them, then you can hide any imperfections and unevenness, plus your lip color will be more pronounced. You can also use a concealer as a base; just spread a bit of the product on your lips before applying your lipstick. This trick will keep your lipstick on for hours
We usually apply concealer under our eyes to hide dark circles and puffiness. But you can also apply it to the inner corners of your eyes to brighten them up for a more dramatic look. You can also use it as a base for eye shadows, then they will not run, and eye make-up will be much more durable
Which concealer for under eyes?
You can find a lot of different under-eye concealers on drugstore shelves. Which one is right for you? You should choose a concealer based on your skin tone and individual skin needs. As you know, women who are physically active and always on the move will need a different product than those who work at a desk
We can choose concealers in cream (well covering and moisturising), stick (strongly masks imperfections), crayon (for broken capillaries and skin eruptions) and compact. Collectors with a stick-applicator, which can be quickly and easily applied to selected parts of the face, are very popular.