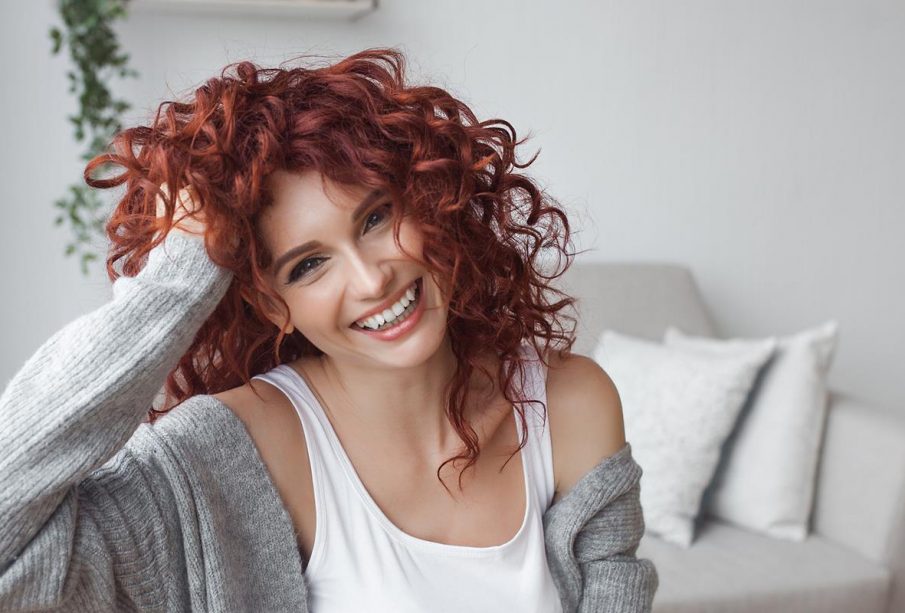 You need about 4 min. to read this post
Many women dream of having beautiful glossy curls. However, achieving the perfect curl without frizz is quite a challenge. Women with naturally curly hair often do not know how to care for their hair properly to enhance their beauty. In this article, we show you how to let your hair's true curliness shine through and how to care for your hair to keep it strong and shiny.
The Characteristics of Curly Hair
Curly hair looks great in pictures in magazines. However, taking care of curly hair on a daily basis is much more demanding than taking care of straight or slightly wavy hair. This is because curly hair is usually highly porous. They tend to frizz excessively and dry out easily. As a result, they become dull and brittle. Instead of perfect, shiny curls you are left with a hairstyle that is difficult to manage. Fortunately, if you take good care of your hair, after some time it will fall into place. However, especially in the beginning, care should be taken very carefully
How Do I Care for My Curly Hair?
Highly porous curly hair is brittle and its ends split easily. This problem can be exacerbated by color treatments (especially dyeing in lighter shades). People with naturally curly hair should especially avoid heat. Heat from blow-dryers, flat irons, curling irons and the sun is particularly harmful for curly hair. It is therefore advisable to use cosmetics with UV filters, which protect the hair structure from weakening and breaking. Women often blame hair treatments for the condition of their hair. While these treatments intensify such hair structure, they are not the only cause. Curly hair is naturally porous, which means that the hair cuticles are relatively tilted away from the hair cortex. This promotes their damage from rubbing, blow drying and the use of intense cosmetics. To nourish high porous hair, you just need to use conditioners and oils regularly. The advantage of this hair is that it dries very quickly. The key to achieving satisfactory results is perseverance and regularity. It is difficult to take proper care of such hair without professional knowledge and professional products.
What Cosmetics to Use to Accentuate Curls?
Women with curly hair should choose their hair care products very carefully. They must beware of strong detergents. Most shampoos that have SLS and SLES in their composition will be too intensive and may overly worsen the condition of the hair. You can either dilute such a product with water to make it milder or skip it altogether. Drugstores offer an ever-increasing variety of products for different hair needs, including series dedicated to curly hair. It's worth looking for alternatives that won't have a negative effect on your hair or scalp. The best shampoos are those with Ammonium Lauryl Sulfate, Ammonium Laureth Sulfate, Sodium Cocoyl Sarcosinate, Sodium Olefin Sulfonate or Sodium Lauryl Sulfoacetate.
Conditioners and masks – are they worth using?
Conditioners are a must when caring for your curls. You should avoid products with silicones, which will artificially glue the hair structure, and opt for products with conditioning agents. Look for the following ingredients on the label: Behentrimonium chloride, Benzalkonium chloride, Cetrimonium chloride, Tallowtrimonium chloride and Tricetyldimonium chloride
Remember, curls are not fond of heavy products. Masks may be beneficial for curls and hairstyle if they are well adapted to your hair type. Thickening products should have a light consistency. Avoid masks with silicones or thickeners (one of the most popular is guar gum). It is worth looking for those that are enriched with moisturizing and greasing glycerin, aloe vera, honey and hyaluronic acid. D-panthheol, urea and other plant butters help strengthen the hair structure and emphasize its natural curl