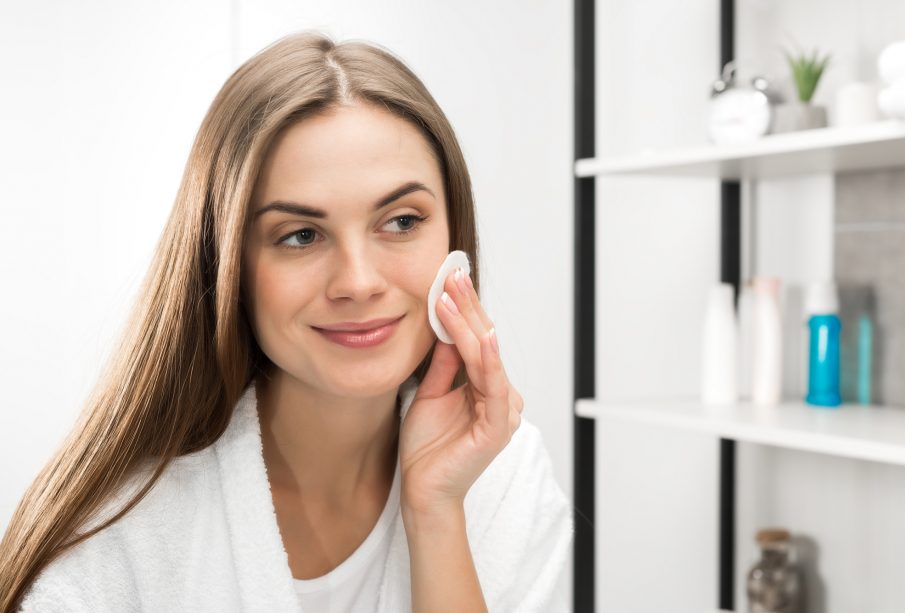 You need about 4 min. to read this post
The editors are not responsible for the content of the article or the personal views of the author.
Good makeup enhances your beauty while discreetly hiding any flaws. To make sure you look as perfect as possible, follow a few simple steps before applying your makeup to make sure your makeup has no competition.
What to keep in mind before applying makeup?
High-quality lipsticks, mascara, eye shadow, foundation and proven makeup accessories are half the battle. Before using them, you should prepare your skin properly, so that the cosmetics adhere much better to your skin, which translates into better durability of the styling. Thorough cleansing, careful toning and comprehensive moisturizing are steps you should not skip before you start applying your make-up, especially since they do not take too much time. A well-groomed face will look great with any type of make-up, so you will be able to experiment with your look
Cleanse your face before make-up
Cleansing is one of the pillars of your daily skincare routine, thanks to which your skin regains freshness and becomes oxygenated. You know that if you forget to wash off your foundation once, you will quickly develop imperfections and redness. What cosmetics will help purify the skin? Choose according to your skin type, taking into account your skin's needs. It is essential to regularly use a good make-up remover, such as a cleansing milk or micellar lotion that removes make-up remnants, sebum and dirt in a few moments. Specialised foams, cleansing face gels and oils that meet the needs of dry skin also provide deep cleansing. Enrich your skin care routine at least once a week with an enzymatic or classic face scrub. Its exfoliating action will give your complexion silky smoothness.
Remember to tone
In the daily rush, many women forget about a very important element of skin care, which is toning. Meanwhile, it is the toner that restores the skin's proper pH, which strengthens its natural protective barrier and determines its good condition. The application of a toner closes the pores of the epidermis, refreshing the face and preparing it to receive the nutrients contained in the cream, whose application is the next stage of the beauty ritual. When looking for the perfect toner, reach for gentle formulas free of alcohol, which can irritate and dry the skin. Instead, choose toners enriched with natural extracts and vitamins or test out toning hydrolats, which will take care of the epidermis balance.
Moisturizing is important too
Whether you're preparing a light makeup for day or going for a heavy makeup for evening, the foundation of your makeup routine should be a well-hydrated complexion that doesn't flake or feel tight. This stage of skin care is just as important as cleansing your face and toning. Optimally hydrated skin is the result of the systematic application of the cream with the formula that retains moisture in the epidermis. Why is this so important in the context of makeup? Moisturized skin does not produce excessive amounts of sebum, so it is less shiny and make-up applied to it retains its benefits longer. Which moisturizer works best for me? Dry skin likes rich moisturizers, while oily skin is better served by creams with a light, almost gel-like consistency that is absorbed quickly. Patting a moisturizing cream into your skin is an alternative to heavy, silicone-based makeup bases, which are better reserved for special occasions
Finally, the foundation
When you're done with the skincare part of your makeup prep, you should even out your complexion by covering all kinds of imperfections and blemishes. Apply foundation by patting it in gently, moving from the center of your face to the edges. To make application easier and to achieve a neat, natural-looking result, use a dedicated makeup brush or a silicone sponge to apply foundation in a thin and streak-free manner. On certain parts of your face, such as under your eyes, it is better to apply a small amount of cream concealer instead of foundation, which will also help cover small blemishes on your cheeks. Are you going to paint your eyelids? Apply a small amount of special base to your eyelids to intensify the hold and color of your eye shadow. Finish off with a light dusting of powder to seal in the perfect look. Thus prepared complexion is ready for further beautification with blush, bronzer or highlighter.
Main photo: Customer's material