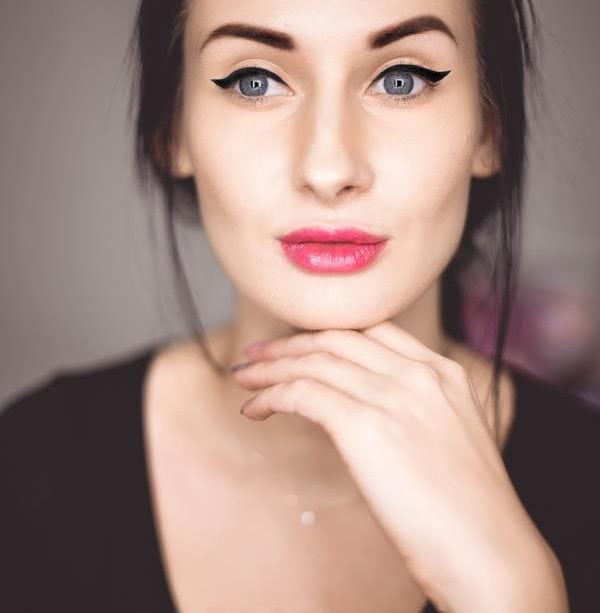 You need about 4 min. to read this post
A line on the eyelid will perfectly emphasize each eye. The classic black line will never go out of style and will add character to any makeup. See what steps you need to take to draw the perfect line!
Still jealous of other girls with a perfectly drawn eyeliner? No wonder, because an impeccably drawn (with eyeliner or pencil) line is the crowning glory of makeup, but the cherry on the cake of the whole makeup. Beautifully opens the eye, highlights the color of the iris, and what's more – optically thickens the lash line. Jealousy of perfectly made eyeliner, you can turn into motivation to act and learn how to make a perfect line yourself. Despite appearances, this art is not difficult to master.
Let's start from the fact that we can make a line on the eyelid in many ways. You can make it with a black shadow or eyeliner, which is available both in brush form and in pen. You can also use a black crayon. The choice depends on individual preferences of each of us.
Step one – preparing the eyelid!
The most important thing is that the eyelid is well prepared. It must be well degreased. We can also apply an eye shadow base or powder the moving part of the eyelid. Thanks to this our make-up will be very long-lasting.
Step two – stabilize your hand!
It is important to have a steady hand to draw lines on your eyelids. We do not draw lines in the air, because it requires a really "steady hand" and practice. It is best to stabilize your hand by placing it on a table or dressing table. It is also important to find a well-lit place, preferably in daylight, by a window. It may also help to support your hand against your face to keep your elbow steady.
Step three – draw a line with a crayon!
Drawing a line with a crayon is a good trick for ladies who don't feel confident yet or are just starting out. It's best to use a lighter colored crayon to lightly draw a line. This will give you the contour and shape, after which you can draw the line with an eyeliner or black crayon. You can also try another way, drawing dots close to each other, which we then naturally connect in one stroke, creating a line.
Step four – draw a line!
If you want to lengthen the eye, you should draw the line slightly lower than the lower lash line. The most common mistake ladies make when applying the eyeliner is stretching the skin around their eyes. For beginners this way seems to be easier in applying the line. Unfortunately, when you draw a line and let go of the skin tension, you may find that the line is too low or too high. Eyeliner in a pen will be the perfect tool when you want to make a fine swallow. By making a line from the end of the swallow to the inside of the eye, we will be able to control the painted line.
Step five – use cotton buds to correct the line!
It is best to look in the mirror all the time and supervise the formation of the line. While applying the line try not to squint and close your eyes. If our line appears too thick or uneven, we can gently remove the excess of the applied cosmetic with a cotton bud, preferably soaked in micellar water
Sixth step – perfect your line!
When we correct small flaws of the line, for example by rubbing off uneven parts, we can mask them by gently powdering them or covering with a flesh-colored eye shadow. This solution is good when we have little time left before the planned departure and we do not have time to wash the line and paint it from the beginning.
Step seven – apply mascara!
All you need to do to complete your make-up is to carefully apply mascara to your lashes and you're done. Choose a black mascara that curls and lengthens your lashes and adds depth to your look.