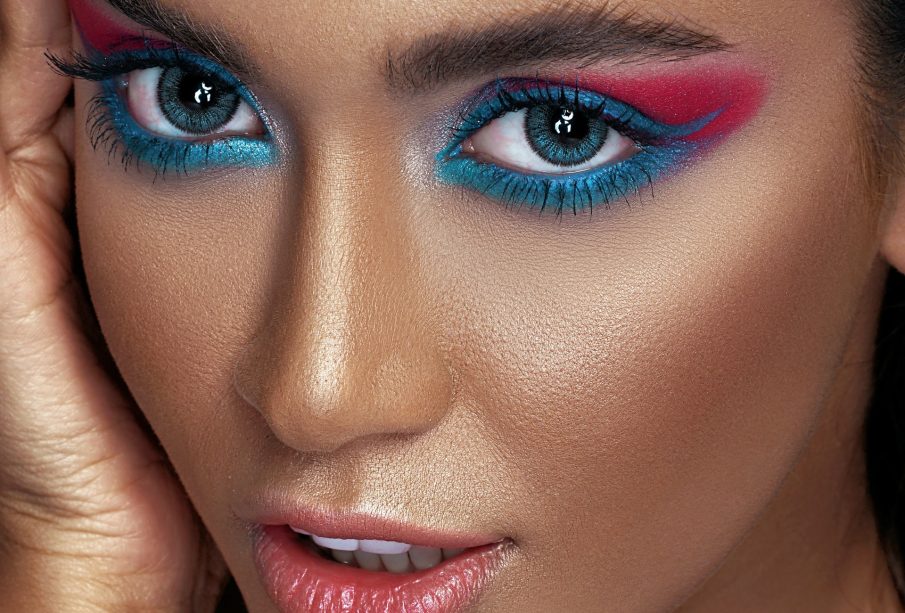 You need about 3 min. to read this post
Colors – life would be boring without them! We love colorful clothes, colorful drinks and colorful cosmetics. At every step you can see women with colored lipstick on their lips, but also eyeliner on their eyes! How to use and what to pay attention to when buying colored eyeliner? You will find out by reading this article. 
Types of eyeliners
Eyeliner has more than one form! In drugstores you can find eyeliners in different colors and formulas. You can find those in a stick, in a sand and in a jar. Which one you choose will depend on your personal preferences.
What to look for when choosing an eyeliner?
The brush is very important
The brush is one of the most important parts of the eyeliner. On it will depend how precise a line you will make. If the brush is thick and not sharply cut, then you have to bear in mind that the lines will be not very precise. It's also not worth investing in sand eyeliners, as the primer will collect on the tip and make it difficult to paint a line. The best solution, especially for beginners, will be to use an eyeliner with a thin, precise brush. The chance for mistakes is then minimized. 
Product finish
Eyeliners have two basic finishes: glossy and matte. Glossy ones usually suit artistic makeup looks, as they stand out from other cosmetics. For minimalist ones, we recommend the matte ones, as the line made with them will be more aesthetically pleasing.
Formula
The formula of the eyeliner is extremely important. This type of cosmetics can be more liquid or thick. It is much easier to work with the liquid ones, because they glide smoothly on the skin and do not leave lumps. The thick ones are more for experienced makeup artists. However, if you have such a product and want to use it, try adding a drop of fixative to it. Then you should get a better consistency. 
Colored eyeliner – for what makeup?
Colored eyeliner will not go with every makeup. However, there are some proposals that can not do without it! Eyeliner in an intense shade can form the basis of a look. Add mascara eyelashes and slightly emphasized eyebrows, and you're done! Moreover, you can even use such a cosmetic as a lipstick, if you feel like an extra crazy make-up. Many artistic make-ups even require the use of eyeliner in color. 
Can you boost the color of your eyeliner?
Not every colored eyeliner will leave intense lines on the eyelid. Some will require a base. It can be provided by a liner in a white shade. Make a line with it on the eyelid and wait for it to set. Then repeat the whole process with color. If you have already drawn a line without a base and noticed that it is not as intense as you want – there is also a way. Use an eyeshadow of a similar shade. Use a thin brush to touch up the contour and add expression to the whole look!
main photo: unsplash.com/Amir Seilsepour