How to deal with mask-wearing-induced acne ?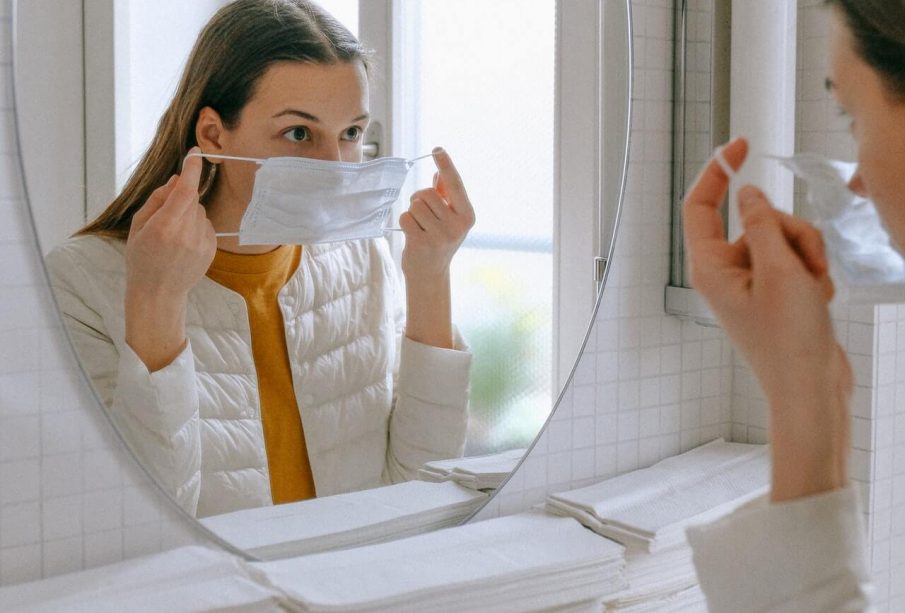 You need about 3 min. to read this post
Disposable masks are a product that has been with us since the beginning of the Covid-19 pandemic. They are one of the most effective methods to prevent the spread of the SARS-CoV-2 virus. Unfortunately, the consequence of wearing masks can be the development of a specific acne. We are talking about a new disease entity called maskne. Its name comes from the words "mask" and "acne" (acne). How does it occur? How to treat it? In today's entry we will take this issue under a microscope.
What is maskne and how does it form?
Maskne is a term that refers to any type of facial inflammation that occurs as a result of frequent, prolonged wearing of a protective mask. In recent times, it is the most popular type of mechanical acne. Its main symptoms include changes such as blackheads (both closed and open) and dilated capillaries. They appear on the chin as well as on the cheeks and around the mouth. How does the mask develop? As already mentioned, its formation is associated with the wearing of protective masks, which are designed to protect the respiratory tract against the entry of microorganisms. Already after 15 minutes they can become a habitat of dangerous microorganisms for the skin. This is mainly due to high temperature under the mask, high humidity and difficult access of air. Each of the above mentioned factors has an extremely unfavorable influence on skin. It can lead to both maskne and atopic dermatitis or seborrheic dermatitis.
How to get rid of maskne?
What should you do if you notice the first symptoms of maskne on your face? Then special facial care using dedicated antibacterial products designed to inhibit the development of microorganisms will be necessary. Particularly recommended are cosmetics containing in their composition tea tree oil and azelaic acid. However, products with alcohol will not be used here. The next stage of maskne treatment is the regeneration of facial skin and protection against irritation and abrasions. For this purpose, it is worth reaching for a light moisturizing cream. People who, because of their work, have to spend many hours every day in a protective mask, should use a foundation with a light formula, so that the skin can breathe freely and a setting powder, which will not dirty the mask
How do I protect myself from masks?
Are there proven ways to protect your skin from maskne? Absolutely. For this purpose, it is worth getting a supply of disposable surgical masks. An equally important issue is the proper way of putting them on. The colored part should be on the outside, and the white – inside. The first hydrophobic layer repels particles that may be potential pathogens, the second – absorbs water vapour from exhaled air, protecting the material from becoming damp. A disposable mask should be worn on the face for no longer than 30 minutes. After this time, its inner part becomes moist and can contribute to the growth of viruses and bacteria. Those who prefer disposable masks, such as cotton, flannel or linen, should wash them after each use at a temperature not lower than 60 degrees Celsius, using hypoallergenic products for this purpose. Avoid detergents with softening properties that can lead to skin irritation.