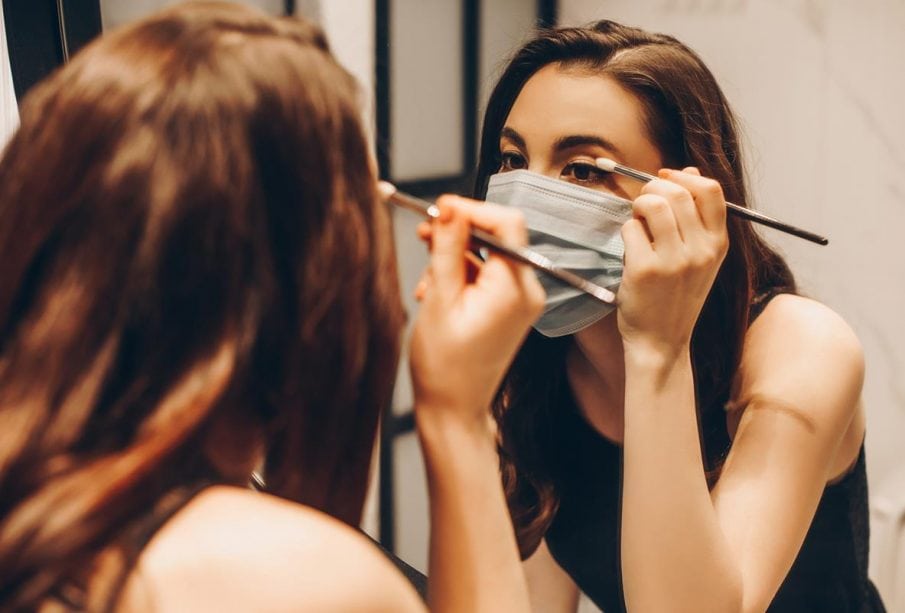 You need about 4 min. to read this post
For many women, makeup provides a substitute for everyday normality, so you don't have to avoid it during pandemonium. Instead, it is worth knowing how to do it well. We suggest what to remember when applying makeup under a mask.
Makeup is not only a decoration and emphasizes the natural beauty, but also often protects against touching the face. This in turn is very important during the ongoing pandemic. Although some women have completely given up wearing makeup during this period, some ladies find it difficult to part with this habit. In order for cosmetics to behave well under a mask, you need to follow some basic rules.
Makeup under the mask – is it a good idea?
With the advent of the obligation to wear a mask in public, a discussion also arose among women about makeup in these new circumstances. A significant number of dermatologists say that the abandonment of daily makeup is a decision that is beneficial for the skin. Experts explain that wearing a mask can exacerbate skin problems and cause irritation. They point out less skin breathing and dirt, which can eventually result in inflammation and clogged pores. However, some people point out that makeup makes us touch our face less often. This is very important when it comes to preventing the spread of coronavirus. It may allow some to avoid infection through pathogen transmission. For such makeup, you need to choose high-quality cosmetics, because some drugstore products easily smear and run off under the mask. At the same time, during this period we must also take special care to cleanse the skin, so that it remains healthy and properly moisturized.
Less is more
To apply make-up under the mask it is worth to use light cosmetics. Products based on minerals with moisturizing properties will be perfect. It is better to replace heavy foundation with BB cream. It provides a softer coverage, but allows you to cover any imperfections. Most BB creams already have a UV filter, so they protect the skin from the sun's rays. Cream cosmetics with oily or thick formula do not work under the mask. It is better to give up highlighters or bronzers in sticks in favor of the ones in a powder or rock form. Not only that under the mask they will lead to the development of pimples, but also they often smear under the influence of warm, exhaled air. The less cosmetics we apply on the face and they have a lighter formula, the skin will be able to breathe better. To set your makeup, you can use any loose powder. If you want to give yourself a little more coverage, you can choose one with added pigment instead of a transparent one. During a pandemic, it is better to skip painting your lips and opt for highlighting your eyes.
Take care of your skin
During the pandemic, mental health and well-being is very important, so if makeup is to improve our mood, you do not have to give it up completely. You just need to remember to thoroughly cleanse your skin after a day of walking around in a mask. Proper care of the skin will improve its overall condition, and in addition will make the makeup last longer
Every evening it is worth using a two-stage cleansing – first with an oil phase, and then with water. Special makeup removal oils and micellar liquids work perfectly for this. They will help to effectively remove dirt, dust and cosmetics collected during the day. The next step is skin toning, which aims to restore the correct pH level. Products enriched with plant substances (cucumber extract, aloe vera or rose essence) will nourish tired epidermis. The last step should be a thorough moisturizing with a good cream and serum
In the morning, before applying makeup, it is also worth washing your face to get rid of excess sebum production and remove the exfoliated skin. Regular skin care will keep your skin in top condition and makeup will only enhance your beauty. To achieve a radiant complexion, it is also worth remembering about a healthy lifestyle. A proper diet rich in fruits and vegetables, as well as sleep for at least 7-8 hours a day will have a positive effect on the condition of your complexion and your mood.