Spa at home – how to arrange it?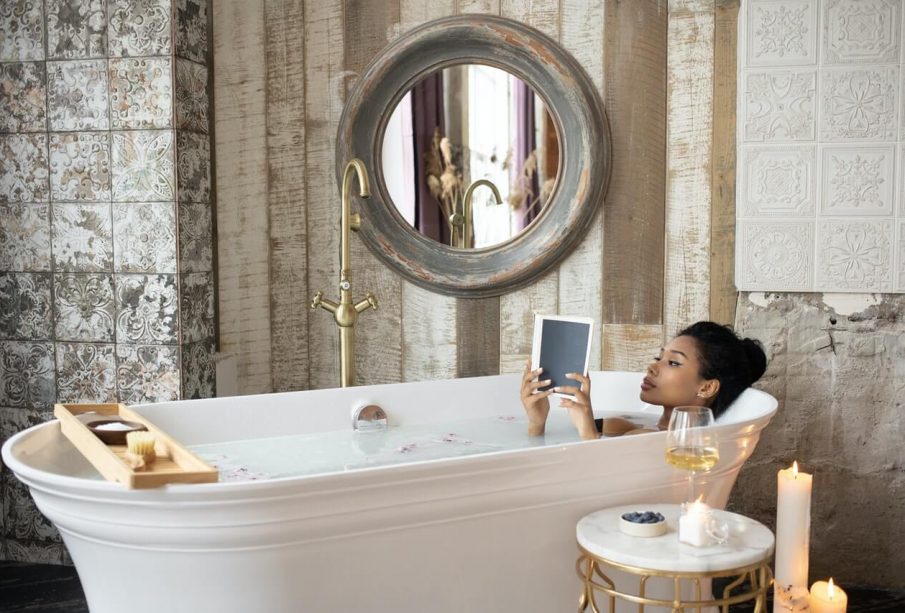 You need about 4 min. to read this post
Are you dreaming of relaxation after a hard day? You don't have to leave your house to get it! Take care of yourself by arranging a home SPA. Not sure how? Read our article.
Why do you need a spa?
Treatments in a home spa will help you maintain your mental balance and comfort. Besides, you will focus on your body care and hair care. In this fast-paced world, relaxation is very important. Therefore, take a few hours for yourself by cutting yourself off from your problems. Focus only on yourself and your body.
The right tub
The most important thing in a home spa is the bathtub. With the right choice, you will ensure comfort and a sense of true relaxation. A great choice would be a corner tub with a whirlpool so you can relax.
The colors of nature
To create the right mood in your own home spa, go for natural materials and calm colors. Place a wooden chair next to the bathtub to put away your towels and bathrobe. The sight of greenery will have a calming effect on you, so don't be afraid to place plants in your bathroom.
Create an atmosphere
For a real spa experience, set the mood. Dim the lights and place scented candles all around or aromatic oil in a scented fireplace. It is worth betting on traditional scents: sandalwood, mint or orange. Also remember about soft music, which will allow you to relax. What is very important, turn off your phone. Do not let anything distract you while you are resting. You can also try to enjoy the taste of your home spa. Take what you like: a glass of your favorite wine, chocolate or strawberries. Snow-white soft towels or a bathrobe can also bring uniqueness to your treatments.
An atmospheric bath
Hot water will help you relax your muscles. Also remember to use the right cosmetics. It is up to you which one you decide on. These may be bath oils or bath balls. In addition to the beautiful scent, you can also enjoy plenty of foam in the bathtub.
Bathing in the tub will also allow you to take extra care of your eyes. You can put slices of cooled cucumber under them to remove bruises
Facial care
The next step in your home spa should be taking care of your face. Thoroughly wash off your makeup, and then use your favorite scrub. A good way to finish is with a mask that you leave on your face for the rest of the relaxation.
Body care
The best way to take care of your body will be a scrub that will exfoliate the skin. It will make your skin smooth and pleasant to the touch. To stimulate circulation, rinse with warm and cold water alternately. The next step is to thoroughly dry your body and apply the appropriate lotion or cream. While it is absorbing, take care of your feet and hands. You can use an electric heel file to get rid of dry skin. In addition, use a foot scrub and a hand scrub.
Don't forget your hair
Before getting into the bath, apply a mask or conditioner to your hair. Get a special hair cap so that the cosmetic won't run off your head and will be better absorbed.
Finishing off your treatments
If you want to treat yourself to a pedicure or manicure, you can do it at the end of an evening at your home spa. While the polish is drying, get rid of your face mask. After patting your skin dry, apply your favorite cream to your face. Make sure it's selected for your skin type.
It doesn't matter what treatments you decide on when arranging your home spa. The most important thing is that you devote this time to yourself and focus on really relaxing. Not only will you look better, but your mood will surely improve as well