Face roller – which one to choose and how to use it?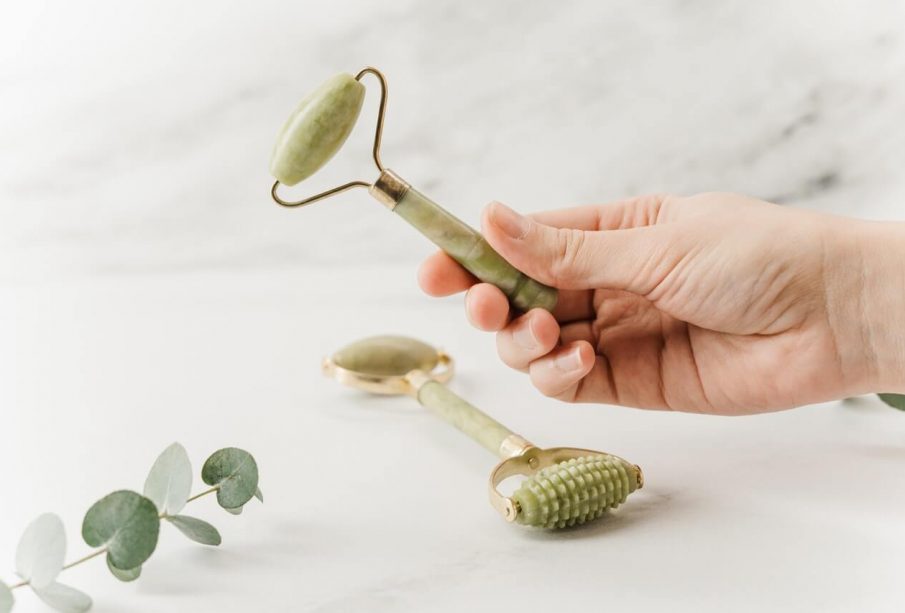 You need about 3 min. to read this post
A facial roller is an extremely popular device in recent times that is used for at-home, natural skin care. How does it work? How should I use it? Answers to these and other questions you will find in today's entry.
What is a face roller?
What properties does a facial roller have? This type of accessory has many advantages. It smoothes wrinkles, removes toxins, reduces bags and dark circles under the eyes, relieves inflammation and muscle tension, and brightens the complexion. Additionally, roller has a slimming effect on facial features. Various natural stones are used in its production. The most common are jade and rose quartz. You can also find amethyst, rock crystal and rhodolite roller on store shelves. An interesting alternative to them can be rollers made of copper and silver, which show antibacterial properties. The ideal cosmetic gadget of this type should be carefully crafted. Before buying, special attention should be paid to the type of material used to connect individual elements together
Face roller can be used in several different ways. It is recommended to use it on previously cleansed skin, before applying any skin care products. Massage with its use is best done in the morning and evening. The roller should be used in an upward, downward and side-to-side motion. The dorsum of the nose is the focal point. It is from there that you should move the roller in all directions, thus removing the accumulated toxins from the skin. Using the roller, you should massage the skin around the contour of the face and neck. When using an upward motion, you will need to exert a little more force. This is because in this way we are able to lift muscles that are responsible for facial oval. The first effects of using the roller can be observed after a few days. Treatment with it should be performed several times a week, repeating each movement several times. After the end of the treatment you should rinse the roller with water with the addition of a mild facial cleansing gel. Stone rollers naturally cool the skin pleasantly. However, if you want to slightly strengthen this effect, for example on a hot day, just put the device for several minutes in the refrigerator. Contraindications for the use of face roller are: rosacea, purulent lesions, moles, birthmarks and fragile capillaries.
Which roller to choose – jade or quartz?
As already mentioned, jade and quartz are the most commonly used stones in the production of facial rollers. As for the first stone, face rollers made of it have been used in Eastern cultures for centuries. Jade can take on different shades. The most common are emerald green, white, light green, pink, lilac, brown, gray and yellow. According to Chinese beliefs, this stone is responsible for removing negative energy. Additionally, it prolongs life, protects against fatigue, strengthens the body and heals all kinds of internal disorders. Green jade positively influences the work of kidneys, white – improves immunity, and pink – contributes to strengthening the heart muscle. Regular use of jade rollers ensures smoothing out wrinkles, relieving pain, reducing swelling and improving blood circulation.
As for rose quartz rollers, on the other hand, it is a decorative mineral that has been used as an amulet for centuries. It owes its color to manganese and titanium, which, depending on the proportions, can give it a more or less intense color. Pink quartz helps to release accumulated emotions and toxic energy. It effectively reduces anger and helps in meditation.