Slimmer body with low-calorie snacks and breakfasts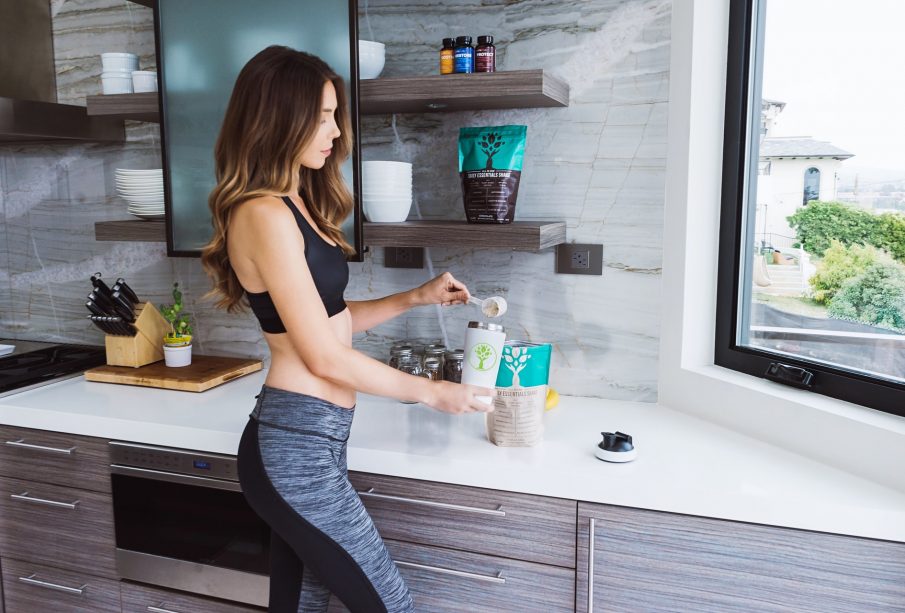 You need about 5 min. to read this post
Dreaming of a slim figure, often the first step we take is to go on a diet. This in turn is associated with a number of sacrifices and the feeling of hunger throughout the day. However, it does not have to be like that!
The key to a slimmer figure is limiting calorie intake, but simply changing your current diet to a healthier one will be easier than you think. By choosing healthy and low calorie meals you will be able to eat more, and this will help you not only lose weight, but also maintain it without worrying about the yo-yo effect
Breakfast is your ally in the fight for a slim figure
When you're struggling to lose weight and trying to cut down on your daily calorie intake, sometimes we think it's a good idea to skip breakfast. The decision to delay the first meal of the day is also encouraged by living on the run and not having enough time in the morning to prepare a healthy meal. But if you're on a diet you definitely shouldn't skip breakfast. Properly composed breakfast improves metabolism. It stabilizes blood sugar levels, which helps to control your appetite and prevents sudden hunger pangs. Breakfast in the morning gives your body a lot of energy, which increases the likelihood that you will have the strength and desire to work out. If you eat a healthy and low-calorie meal in the morning, it's easier to watch your diet for the rest of the day. Taking care of your breakfast intake helps you organize your entire weight loss plan and motivates you to control it. It's the same as planning and being consistent with your skincare routine!
Low calorie and healthy breakfast ideas
Proper body weight will help maintain high-fiber foods such as fruits, vegetables, nuts, yogurt and cereal products. Meals using oatmeal are especially beneficial for your figure. They will provide you with a lot of energy for the whole day and are an ideal meal before training. They maintain normal blood sugar levels, which provides a longer feeling of satiety. They give you a huge scope of possibilities as a meal base. You can eat them with anything you like. It is worth reaching for ready-made oatmeal, muesli and granola with the addition of mixtures of dried fruit, nuts and other nuts, and even pieces of chocolate or coconut chips. It's a good idea to add plant-based milk to your oatmeal or granola. Not only is it vegetarian, but it has fewer calories than cow's milk. There are many kinds to choose from, so you can easily find the flavor that suits you best. Some of the tastiest include rice milk, oat milk, almond milk and coconut milk.
You can find a wide selection of delicious, yet low-calorie and healthy products, as well as tons of breakfast inspiration and recipes at https://onedaymore.pl/.
Can snacks be fit?
When fighting for a slim figure, you don't have to give up snacks. On the contrary, eating smaller but more frequent meals helps to maintain your figure. It is worth reaching for healthy snacks which will provide you with energy for longer. When choosing a snack, also choose products with high fiber content
An obvious choice for a small meal is fruit. Apples, watermelon, melons, strawberries and peaches have the least calories and sugar. An even healthier alternative is vegetables. On the run, carrots, peppers, green cucumbers, or celery are great. Outside the house, you can easily eat them if you cut them into bars beforehand and pack them in a small container
For figure and beauty
A very handy and filling snack is nuts. The healthiest of them are nuts and almonds. The healthy fats that are contained in their nuts help to maintain the desired body weight. They have a beneficial effect not only on your figure, but also on your complexion! The fatty acids contained in nuts remove toxins from the body and help retain water. The result is radiant-looking skin. Walnuts also make your hair look brighter and shinier. Almonds, on the other hand, contain vitamin E, which strengthens the elasticity of the skin, as it is responsible for the formation of collagen, and also fights free radicals and moisturizes the skin
Calories on the go
However, these healthy snacks also have a lot of calories. Therefore, if you care about your figure, you should eat them in moderation. And it's easy to overeat with nuts – they are delicious, so once you start, it's hard to stop at just a few pieces and you reach for them by handfuls. Then ready sets come to the rescue. Thanks to them you do not have to think about how many pieces you can afford and in what proportions to eat them. The packages contain suggested portions which will provide a beneficial effect for your silhouette. They are carefully composed sets of various nuts, so they provide various necessary nutrients
Among ready-made snacks you will also find less caloric, but equally filling proposals. In recent years, they are even easier to get, because they have become very popular. Especially delicious are proposals based on oatmeal, such as bars or cereal balls. Manufacturers make them with delicious toppings – mostly sweet, but you'll also find savory versions.
As you can see, dreams of a slim figure don't derail your ability to enjoy food. Healthy and low-calorie meals can be tasty and quick too