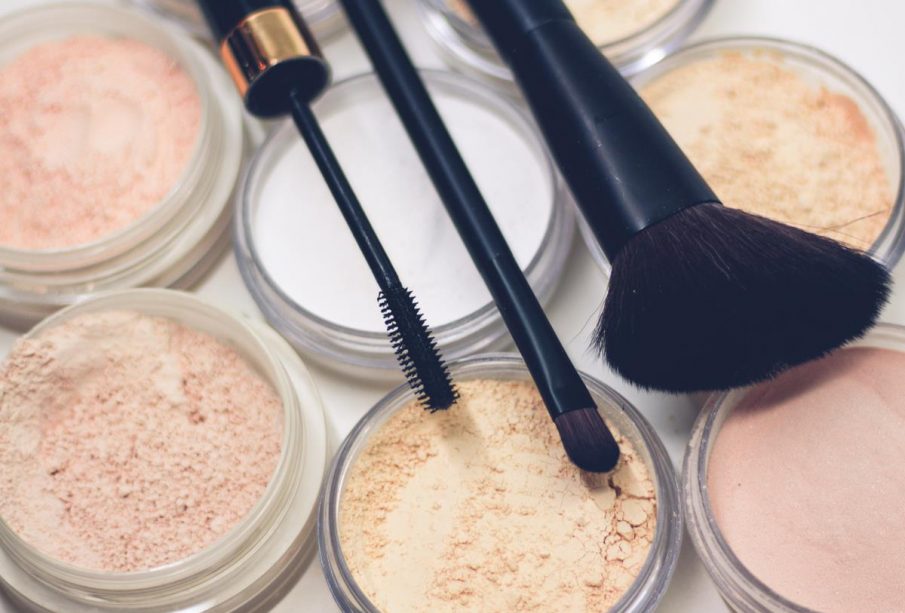 You need about 4 min. to read this post
Powder is a cosmetic that should be in every woman's makeup bag. It helps even out skin tone, fix makeup and gently mattify the face. How to use it properly?
In stores today, we can find a wide range of powders – pressed, in-camera or loose. With proper application technique this cosmetic can extend the life of foundation. Unfortunately, some women have the wrong approach to powder application, which makes the skin appear matte, and in other places it shines excessively. In the article we suggest what to look for and what to avoid.
The effects of loose powders
Powder is used primarily to fix makeup. It helps to extend the life of the foundation or BB cream laid underneath. Thanks to it, base cosmetics do not smudge or run off. Depending on the type of powder it may have other properties. Those with added pigment will gently smooth the skin tone. Powders with shimmering micro-particles will beautifully illuminate the complexion. Shimmering in the light, pigments give the impression of smooth and youthful skin
Properly applied powder can give your face a healthy, radiant look. The T-zone (forehead, nose, and chin) is particularly prone to oiliness. Powder helps to mattify shiny areas. If you just want to fix your makeup and do not need additional coverage, a good choice is a transparent powder, which is colorless. It perfectly matches your complexion color, making it invisible on your face
People who have sensitive skin prone to irritation or who react allergically to some drugstore cosmetics should consider mineral powder. It does not clog pores, so it will also be suitable for ladies who struggle with oily and acne-prone skin.
What to apply loose powder with?
Although powder is quite simple to apply, you need to remember a few rules. Brushes that are dedicated to applying loose or pressed powders will work best. Some manufacturers also add branded cans for specific products. Large brushes with dense bristles allow for efficient and accurate distribution of cosmetics on the face, especially on large areas such as cheeks or forehead. Women who have a tendency toward oily skin around the nose may also choose a second, slightly smaller brush to reach these areas more precisely. A separate brush originally designed for shadows will work well here
To avoid foundation from rolling off and becoming too matte, causing a grayish complexion, you should apply powder in a top-to-bottom direction. The product should be applied in thin layers in order to avoid the mask effect.
How to apply powder – step-by-step instructions
Applying powder can be tricky. A quick tutorial should clear up any doubts.
Most loose powders come in classic, round boxes with a protective twist-off cap with holes. Before opening, it's a good idea to shake the box a bit, so that the powder falls out in the center, and not on the sides. In case of pressed powders, there is no risk that something will fall out.
Powder should be applied by putting a brush or a can to your face, making circular, short but precise movements. It is better to avoid rubbing your complexion, as this can lead to the foundation rubbing off and thus an uneven skin tone.
If you happen to apply too much powder on your face, carefully wipe the area with a dry cotton ball to collect the excess product. This way, you won't disturb the other layers of your makeup.
It is important to remember that powder should not be applied over wet foundation. This can cause the two products to stick together and cause unsightly rolling. It is definitely better to wait a while for your foundation to soak into your skin. Then it will be easier to apply the powder evenly.
The key to beautiful makeup every day is proper skin care. It is worth remembering about makeup removal, proper skin cleansing and, of course, deep moisturization.