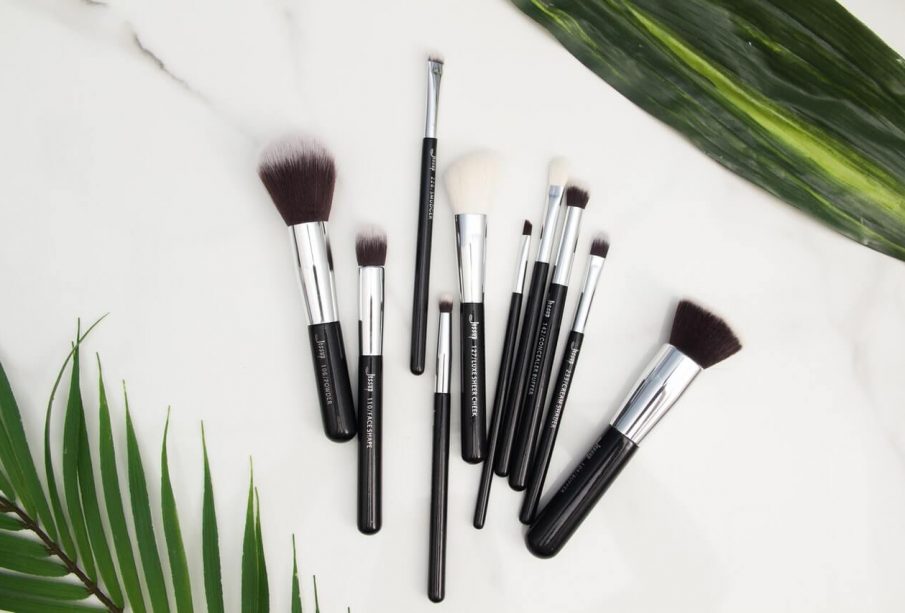 You need about 4 min. to read this post
Makeup brushes are meant to make it easier for us to precisely apply and distribute cosmetics. Thanks to them you can do it quickly and without much effort.
It is a good idea to get the right makeup brushes to use for everyday painting. Using the right brushes will make the products blend better without leaving any streaks. It is impossible to perform some makeup techniques without using the right brushes, such as applying shadows on the eyelids or highlighting the eyebrows
Natural or artificial bristle makeup brushes?
The basic makeup brushes you need to have in your makeup bag are those designed for applying foundation, blush, and brow pomade. Once you master the use of these three products, you can expand your collection and thus learn new techniques. Many people ask themselves whether to choose natural or synthetic products? There is no one right answer, because it all depends on the purpose of the brush. The difference is that natural bristles are distinguished by exceptional softness and delicacy
The difference is that natural bristles are extremely soft and fine, so they're perfect for applying loose products like powder or eye shadow. For the best results, use a synthetic brush to apply foundation, bronzer, or highlighter in semi-liquid form. The brushes are much easier to clean after application, so it is easy to keep the accessories in good condition and prolong their life. In drugstores you will find both natural and synthetic brushes at very attractive prices
What types of brushes do we have?
Brushes vary in size, shape and how firm the bristles are, depending on their purpose. You can also find many different lengths of handles, which make it easier to hold a brush in your hand. With such a variety of choices, you can choose the right brush for the place and type of cosmetics you are applying. One generally accepted rule of thumb is that larger brushes are used to cover larger areas of the face, that is, to apply foundation or powder. A medium brush is used for blush and highlighter applications, while a small brush is for more precise eyebrow, eye, or lip makeup.
Bronzer brush
The brush should be medium-thick because precision is very important when applying bronzer. The shape is also important – a bronzer brush usually has a rounded and slightly pointed top. Use a highlighter brush to blend bronzer and highlight perfectly on the face.
Highlighter brush
The purpose of a highlighter brush is to add glow to the skin. To achieve this effect, choose a soft brush with a chamfered tip, similar to a blush brush. A fan-shaped brush is also a good option to ensure thorough application of the loose product
Blush brush
The blush brush is a bit larger than the brush used for bronzer application. The best brush for blush is a model with long, soft and diagonally cut bristles. This will make both blending and application of the product easy and pleasant.
Eye shadow brush
Eye shadow brushes will be small so you can easily reach the corners of your eyes without leaving unsightly marks. To accurately apply eye shadow, get a flat brush and another not too wide in a U shape
Foundation brush
This brush certainly stands out for its size. The large size allows you to work quickly and cover your entire face thoroughly with foundation. The dense bristles and the rounded shape allow you to precisely apply the foundation to all parts of your face. In this case, it is very important that the brush is made of artificial bristle – this will make it easier to keep it clean
Powder brush
The powder brush is usually the biggest makeup brush. This model is usually very fluffy, as this makes it quick and easy to scoop up a small amount of product and apply it thoroughly all over your face.
Eyebrow brush
When choosing an eyebrow brush, bet on a short-cut shape that has compact yet flexible bristles. A good option is an eyebrow brush with a spiral at the other end for combing. This way you can also comfortably shape your eyebrows with just one accessory.